The Boxcar Children Collector's Edition DVD Guest Giveaway ends 8/12 US Only
We are excited to bring you another wonderful family movie! With Fall coming, the weather will be getting cooler, it will be the perfect time to settle in with a good movie. If you've never heard the Boxcar Children, here's a bit about them.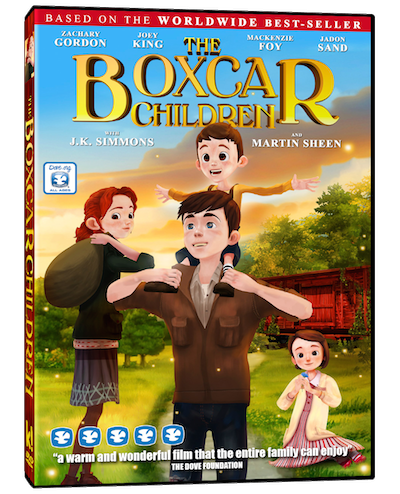 About the Film
Four orphaned and homeless siblings happen upon an abandoned boxcar, which with a little creativity and hard work, they gradually furnish with all the comforts of home. Fearful that they will be sent to live with the reputedly cruel grandfather they have never met, the children keep their new home a secret – until a serious illness forces them to reveal themselves in order to save young Violet.
About the Cast
Featuring an all-star cast of voice actors, including Academy Award Nominee Martin Sheen (Apocalypse Now), J.K. Simmons (Spiderman), Zach Gordon (Diary of a Wimpy Kid), Joey King (Fargo), Mackenzie Foy (Twilight series), and Jadon Sand (LEGO: The Movie), this is the very first full-length, animated feature adaptation of Gertrude Chandler Warner's best-selling classic!
Approved for all ages, The Boxcar Children Collector's Edition DVD includes:
THE BOXCAR CHILDREN E-BOOK PREVIEW

THE BOXCAR CHILDREN GUIDE TO ADVENTURE E-BOOK PREVIEW

PRINTABLE TOWN MAP

OFFICIAL SOUNDTRACK

ABOUT THE AUTHOR/MUSEUM FEATURETTE

DOWNLOADABLE ACTIVITY KIT

STILLS GALLERY
You can pre-order this movie at Walmart today. It is available to the public on August 19, 2014. Be sure to pick up a copy for your family. I hope you love it as much as our family has.
Enter to Win a copy of The Boxcar Children Collector's Edition DVD for yourself!
Giveaway ends 8/12 at 11:59 pm ET! Open to US residents 18+ and older.
Enter using the Rafflecopter form below.
Good Luck Everyone!