Powered by Mom found the perfect hotel when going to Disneyland – Carousel Inn and Suites
We had a very busy summer vacation but luckily for us for the Disneyland portion of our trip we had selected the perfect hotel to stay at and it was the Carousel Inn and Suites. Staying at this hotel  made going to Disneyland so much easier and more enjoyable. I can't wait to tell you about all of the things we enjoyed at the Carousel Inn and Suites and why I, my family and the family that joined us for vacation highly recommend it! We also loved their onsite restaurant the Pizza Press, it's an experience not to be missed, if you're in the area and even if you're not staying at the Carousel Inn & Suites you need to go eat at the Pizza Press! You can read about our delicious experience at the Pizza Press HERE
My pictures did not do the hotel justice so I'm including a few from their website as they show off exactly how the Carousel Inn and Suites look.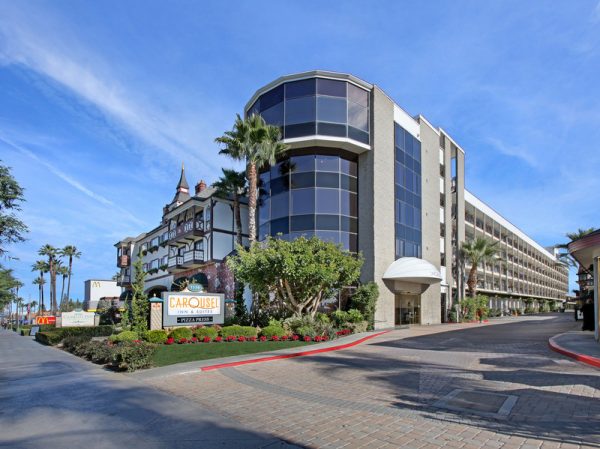 We had the pleasure of staying at the Carousel Inn and Suites for five nights and as I've already mentioned staying here made our vacation easier and more enjoyable. We spend four nights before our stay at another hotel and it doesn't even begin to compare and the Carousel Inn and Suites put the other hotel we stayed at to shame!
The location of the Carousel Inn and Suites can not be beat! It is literally right across the street from Disneyland. We're talking five minutes after you've gone through the various security check ins and Disneyland you are in the park, it is that close! You can see many of the rides from this hotel (I told you it's close), you can see a majority of the fireworks from the rooftop pool and you can even see all the people who are going to the park.
These are pictures that I took from the balcony at the Carousel Inn and Suites of some of the Disneyland rides! The picture night time is one where I did not even zoom in at all, see I told you we're that close to Disneyland! You can also purchase your Disneyland tickets at the hotel with the exception of a single day non-hopper pass. I know that the other half of our 6 person party they got their 3 day park hopper tickets from the hotel.
Some hotels I've seen and stayed at in the past talk about how they are "across the street" from Disneyland but they are like a 15 minute walk and some even have to shuttle you there as it's that far. That's not my idea of across the street but Carousel Inn and Suites is so close that you can enjoy the many benefits of being able to walk back and forth between Disneyland and your hotel.
We took full advantage of being this close by going to the park early and coming back for lunch and dinner. One day we came home to rest as our feet were killing us. Noticed I said home? That's because it was so cozy at the hotel and everyone was extremely friendly that they made you feel at home. Before we even arrived to the Carousel Inn and Suites we already had several long days of walking while visiting another theme park and other attractions in the area so we were tired. It was an absolute treat to be able to take a much needed break when we wanted to without having to worry about driving back and forth to our hotel.
We had a room with two queen beds and it's exactly like the one picture above. They rooms were clean, luxurious and boutique style. The beds are uber comfortable, between the long days of walking and having such comfy beds we all slept well each night. There was a flat screen tv and a Keurig coffee maker along with some k-cups, sugar and whatever else we need to make coffee. There is also a mini fridge in the room which is always handy, I don't understand why some hotels don't have them any more, it's a must have in my opinion. Even though room doors go to an outside corridor we only ever heard just the slightest noise from outside and even from the rooms above us. That was a total bonus as we've stayed at places where the walls were so thin you couldn't sleep because of all the noise. The hotel was packed while we were there too so we were pleasantly surprised that we never found it noisy.
It is valet parking which is about $11/day if I recall but it's well worth it. If you were to park at Disneyland it's about $17. It's better to stay at the Carousel Inn & Suites and pay for the valet parking. The valets here have it down to a fine art, they fit in all the cars in the narrow parking area and we never had to wait very long for our car, even when we asked for it at the last minute. Currently they also have a third party carrier for the wifi which was $6.95 for 12 hours but they do have a computer in the lobby with internet that you can use for free and print off your boarding passes like we did.
My daughter and niece also had a blast swimming in the rooftop pool which amazingly was never busy, seriously the most kids we saw in there at the same time was about six and that include my daughter and niece. There were about 10 people at the pool one night where we all tried to watch the fireworks, you can see quite a bit from there but it's not optimal for taking pictures of the fireworks. For pictures you definitely want to be in Disneyland but to get a glimpse of them without the crowds their rooftop pool is perfect.
They also have in the lobby a nice souvenir selection and if you forgot to buy the kids an autograph book or a little Disney something you can get it from their small store in the lobby. They also have a fun photo podium that you can see in the bottom right picture above. You can take a picture of you and the family and share it on social media or email it to anyone. Naturally my good friend (she and her hubby and daughter joined us for Disneyland) had to take our picture. Check us out below it was fun 🙂
In addition to being conveniently located to Disneyland the Carousel Inn and Suites is also walking distance to several restaurants like McDonalds, there was a buffet restaurant and one that we liked was called Mimi's Café where we had breakfast the day the we left and a dinner there, it was good both times. Since it's so close to Disneyland you also have the options of all the restaurants located in Downtown Disney such as: (Ralph Brennan's Jazz Kitchen, La Brea Bakery, Catal, Tortilla Joe's, Earl of Sandwich, ESPN Zone and many others). However for lunch and dinner our favorite was the Pizza Press onsite at the Carousel Inn & Suites.
It's a short driving distance to some major malls and great shopping. I did some back to school shopping for my daughter at a nearby Ross so I was very happy!
There are of course also suites and bigger rooms than what we had although we were very happy with our rooms, it's always nice for people to know they have options. For the convenience of the location alone we highly recommend the Carousel Inn & Suites but you add to that the friendly staff, the nice rooms and all the amenities it's now our top choice to recommend and if we ever stay in the area again we will consider the Carousel Inn and Suites first. They also always seem to have some specials going on so make sure to keep checking their website. For what we get and for the location alone the price is very reasonable.!
Carousel Inn and Suites gets a big two thumbs up from Powered by Mom and her extended family!