Essential Oil Roller Bottle Blends for Travelling any Time of the Year
Love essential oil roller bottle blends? We do too and we're sharing some of our favourite blends.
We know that not everyone can start travelling yet and we all want to be safe. However, once travel does start to pick up again we want everyone to be as prepared as possible. Do you travel regularly for work? Vacations are exciting but travelling can take its toll. Jet lag, mental exhaustion and overwhelm, aches and pains from being cooped up in a vehicle, anxiety and stress, all can come up while travelling away from home.
That's why I love essential oils roller bottle blends, they can help you manage symptoms and feel better quickly, and when used in a roller bottle they really do come in handy if you're travelling away from home.
It's fairly easy to make your own essential oil roller bottle blends:
Start with a 5mL Roller bottle (normally I use the larger 10mL size but if you're planning on carrying on an airplane the smaller size is recommended. Check airport guidelines for carry-on liquids before packing and heading to the airport)
Add 10-12 drops of Essential oils, up to 25 drops for the larger size bottle (I've included my favourite essential oil recipes for travelling with roller bottles below)
Fill with any Carrier oil of your choice and shake well
Label your bottle(s)
These roller bottles are no mess and easy to transport. I like to keep 4 or 5 essential oil rollerball blends in my purse, car bag or carry-on for easy access.
PIN this article!
Here are my favourite essential oil recipes for roller bottles while travelling:
Sunshine blend
5 drops Lavender essential oil
4 drops Sandalwood essential oil
2 drops Peppermint essential oil
This blend doubles as after-care when you've overdone it in the sun. Hydrating, soothing and cleansing this is my favorite essential oil recipe for roller bottle sun care. The peppermint in the recipe gives off a cooling effect. It's also an excellent good mood blend.
Overcomer
4 drops Wild Orange essential oil
3 drops Geranium essential oil
3 drops Lime essential oil
1 drop Neroli essential oil (optional)
A beautiful essential oil blend perfect for fighting fatigue. This is by far, my favorite essential oil roller bottle recipe for jet-lag.
Sleep EZ
4 drops Lavender essential oil
3 drops Ylang Ylang essential oil
2 drops Vetiver essential oil
2 drops Frankincense essential oil
I generally have a tough time sleeping sound if I'm not in my own bed but this essential oil blend helps. I find that it's relaxing enough to help me fall asleep and I don't toss and turn near as much. This blend is my favorite recipe for a great night's sleep.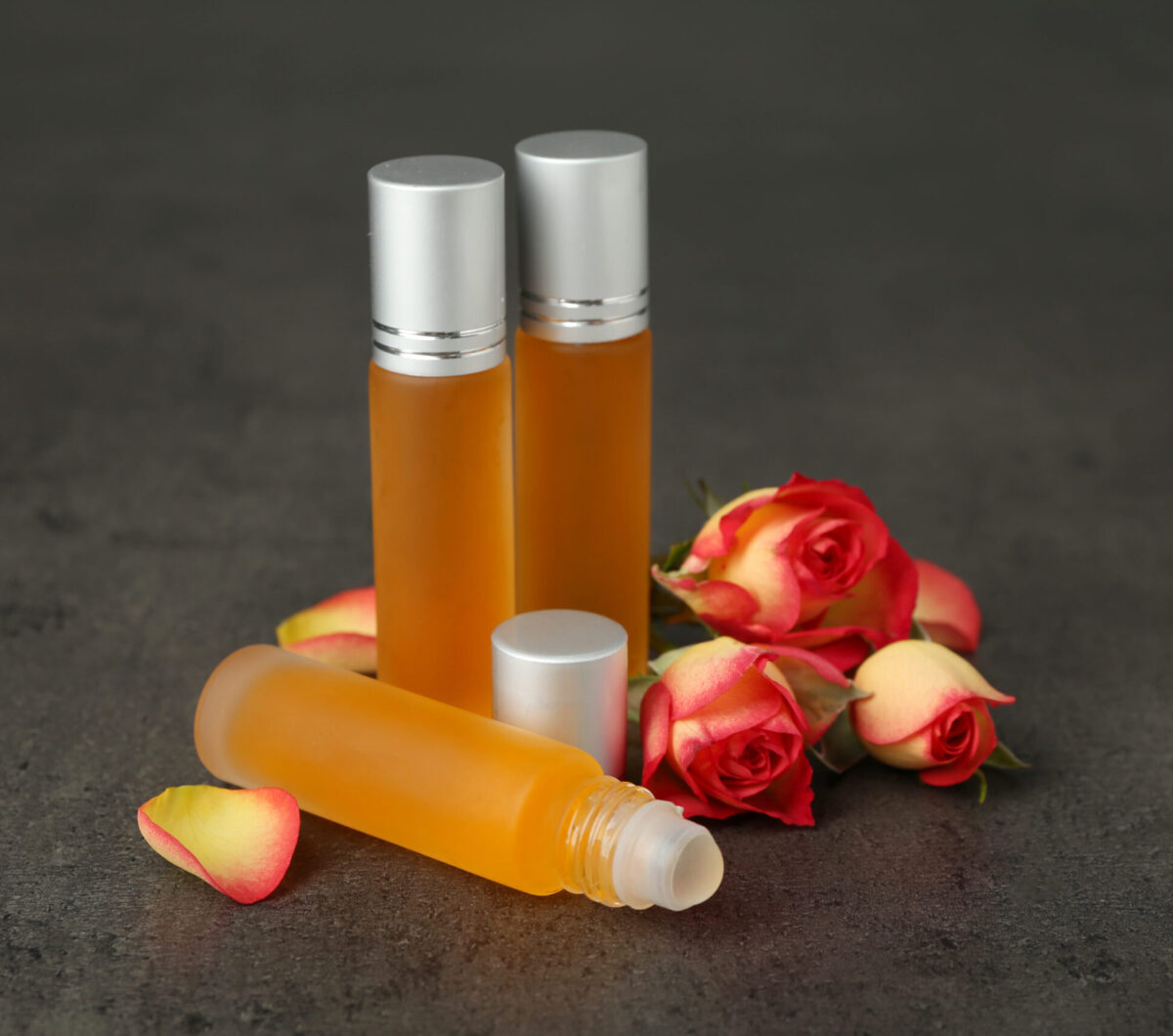 Flirt
6 drops Tangerine essential oil
4 drops Patchouli essential oil
3 drops Rose essential oil
1 drop Copaiba essential oil
This blend is the absolute BEST essential oil recipe for a roller bottle full of love and romance. This essential oil blend is a powerful aphrodisiac that uplifts and boosts mood while encouraging a good time.
Stress Away
3 drops Wild Orange essential oil
3 drops Melissa essential oil
2 drops Frankincense essential oil
1 drop Hawaiian Sandalwood essential oil
It's a shame not to be able to enjoy travelling because of frustration and anxiety. For many, exploring new places or meeting new people can be a big source of stress. Other environmental factors can play a role, too; important meetings, flight delays, traffic jams and crying children can all bring about stress and headache. This essential oil roller bottle recipe comes as relief in a bottle.
Whether you're heading to the beach, the mountains, or overseas, these roller bottle blends will be your perfect travel companion.