Powered by Mom Blog is happy to share this guest giveaway!
One lucky fan will win these beautiful set of knives. US Only.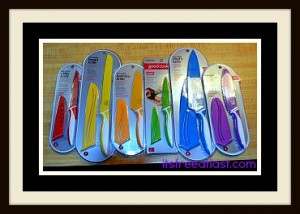 Good Cook has come out with the best set of knives I have ever tried to date. These nonstick knives are fun to have in the kitchen. They're sleek, stylish high performers, for sure.
Nonstick Utility Knife, 5" blade Nonstick Santoku Knife, 5" blade
Retail: $15.69 Retail: $18.99
Nonstick Bread Knife, 7" blade Nonstick Paring Knife, 4" blade
Retail: $29.99 Retail: $14.99
Nonstick Chef Knife, 5" blade Nonstick Sandwich Knife, 5" blade
Retail: $24.49 Retail: $19.99
Set of 6 Colorful,Nonstick Knives ($125 value)
These nonstick-coated knives come in inviting colors for ready access—the bright coding signals that purple is for sandwiches, green is for paring, and so on. Their serrated blades are crafted from high-carbon steel, which stays sharp through regular use. The nonstick coating prevents crumbs from sticking. Each knife includes a safety sheath* to help protect the blade and allow for safe storage. The soft-grip, ergonomic handle fits comfortably in the hand and provides better control when slicing and when hands are wet.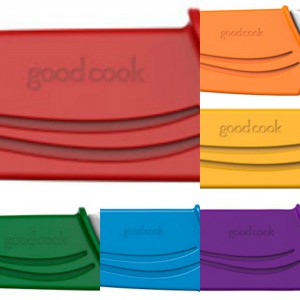 *Safety note: Although every knife in this collection comes with its own fitted safety sheath, these products are not kids-in-the-kitchen friendly because they are very sharp. Please keep out of reach of children.
My favorite knife is by far the Nonstick Utility Knife!!! This is so versatile and can be used for all your slicing needs. From slicing apples for my daughter's lunch, to cutting up potatoes for my homemade stew,this knife truly delivers. My fruit salad was truly easy and a breeze to make with this knife.
Be sure to connect with Good Cook:
Shop their site | Like them on Facebook | Follow them on Twitter | Follow them on Pinterest
Want the chance to win a set of these beauties of your very own?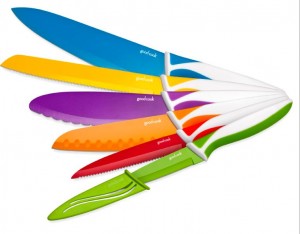 Simply follow the Rafflecopter form below for your chance to win. Giveaway is open to U.S. Residents. Good Luck!!!
Here is a Great Bonus!!! Right now, you can receive 30% off these knives as well as your entire order at www.goodcook.com Simply enter promo code: NONSTICK. Offer is valid through April 15, 2013.