Powered by Mom Blog is proud to be 1 of the 4 moms of Mom Powered Media
On the ninth day of Christmas, Mom Powered Media brought to me the Hammacher Schlemmer Y-Bike Explorer AND Tree Hopper Toys
To find out about  Tree Hopper Toys go HERE
US Only
Hammacher Schlemmer in my opinion definitely has something for everyone mom, dad, the kids, grandparents, the gadget guru, the gardener and so much more. I could and did spend hours browsing through their site as they just have so many things it's amazing. What I also loved is the fact that they have unique items too, things I've never seen anywhere else!
Powered by Mom's Review
A great example of such a unique and fun item is the Heavens And Earth Educating Globe. By day it looks like a pretty cool globe but turn out the lights and wow see the "day" and "night" versions.
Actually the day version is where children and adults alike can access 30 activities about Earth's information–including geography, history, cultures and languages–by touching the globe or a detailed pullout map of the U.S. with a wireless "SmartPen" and listening to narration from a built-in speaker.
For the cool night version an internal LED illuminates the globe in darkened conditions to provide a view of the heavens projected onto the globe's surface. There are activities to teach about constellations, their mythical origins and so much more!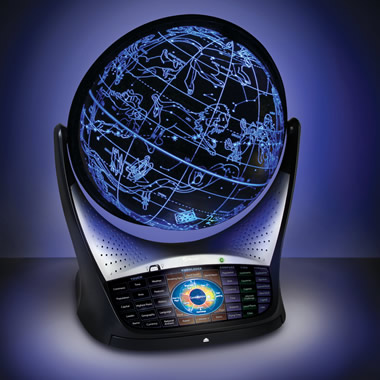 This globe in my opinion is simply too cool and everyone is already learning but they don't know it because we're having so much fun with it. I thought this would be a great learning experience for my daughter and it is as it's engaging, has wonderful features and she and her friends play the games on it so they don't always realize they're learning, even better!
I also selected an item that has actually made my life easier and how many things can we say that about? What it is it you ask? Well say hello to my 
Autonomous Hardwood Floor Wet/Dry Mop
that has taken over almost all of my mopping duties! This is no small feat in our house as our entire house only has 1 area rug and other than that there are no carpets and we have 2 dogs and a cat so that means a lot of mopping and sweeping. This awesome wet/dry mop has made my life that much easier by taking this onerous chore off my hands.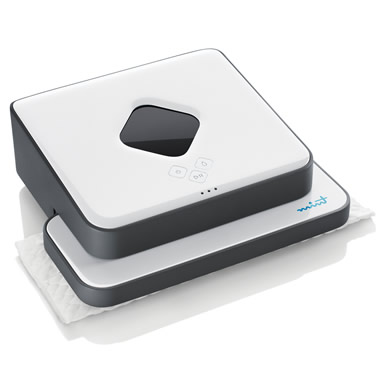 This is the robotic wet or dry mop that navigates autonomously through a room a cleans the floors. To make things even easier this awesome robotic cleaner uses  available dry electrostatic or premoistened cloths like those from Swiffer and others and you attach them to the bottom of the robot and collect dust, dirt, and hair as the device goes through a room. It's able to to do this via something similar to aGPS, it's a palm-sized terrestrial satellite that I set on my countertop and it  emits a signal that the mop. It's on-board sensors ensure that it works around furniture furniture, area rugs, and stairs. It is simply the most helpful gadget I've ever owned and now I'm getting a bit lazy and I always let it do the mopping for me 🙂
Now for the fun Hammacher and Schlemmer have provided Mom Powered Media with a Y Bike Explorer as a prize this is a $200 Value wow! Go & enter and remember to only claim the entries you've followed through on.