Everyone Will Love These Soy Candles from Jaded Candle
Jaded Candle makes homemade soy candles that are pure and natural essential oils. With all of their different scents, you are sure to find a Jaded Candle that fits your mood and decor. You might also find a few gift ideas for the ones you love. 
Jaded Soy Candle Review
I'm always on the lookout for high-quality candles. Not only do I enjoy using them in my home, but they also make fantastic gifts.
Jaded Soy Candles are made out of Oregon. All of their products are handmade without the use of chemicals or any sort of additive. The soy candles come in a variety of scents.
Jaded Candle Scents
Oakmoss & Amber
Macintosh Apple
Lavender Cucumber Sage
Pineapple Sage
Orange Goji Berry
Sweet Pea
Violet Lime
White Tea Berries
Mediterranean Fig
Island Hibiscus
Green Tea Lemongrass
Himalayan Bamboo
Fig Tree
Chardonnay
Egyptian Amber
Talk about a refreshing change. These soy candles are not created equal when compared to other candles. Gone are the days of linen scented candles. They have been replaced with these unique scents by Jaded Candle.
If you want to get a sneak peek at the scents without the big commitment, you can pick up a Jaded Candle Sample Pack that has 5 wax melts and you get to pick the scents! That helps take the guesswork out of choosing the right scent.
Once you've made your scent selections, you can pick from three different sized candles; 15 ounces, 8 ounces, or a 5-ounce candle.
Jaded Candle Gift Ideas
Everyone loves candles. Especially candles that are made with the best ingredients and essential oils. These candles would make great gifts for teachers, neighbors, friends, housewarming gifts, birthdays, Mother's Day, the Holidays, and just about any other occasion.
The ease of ordering on JadedCandle.com makes gifting these candles a snap. They arrive wrapped with care. These candles are sure to light up anyone's day.
My Thoughts on Jaded Soy Candles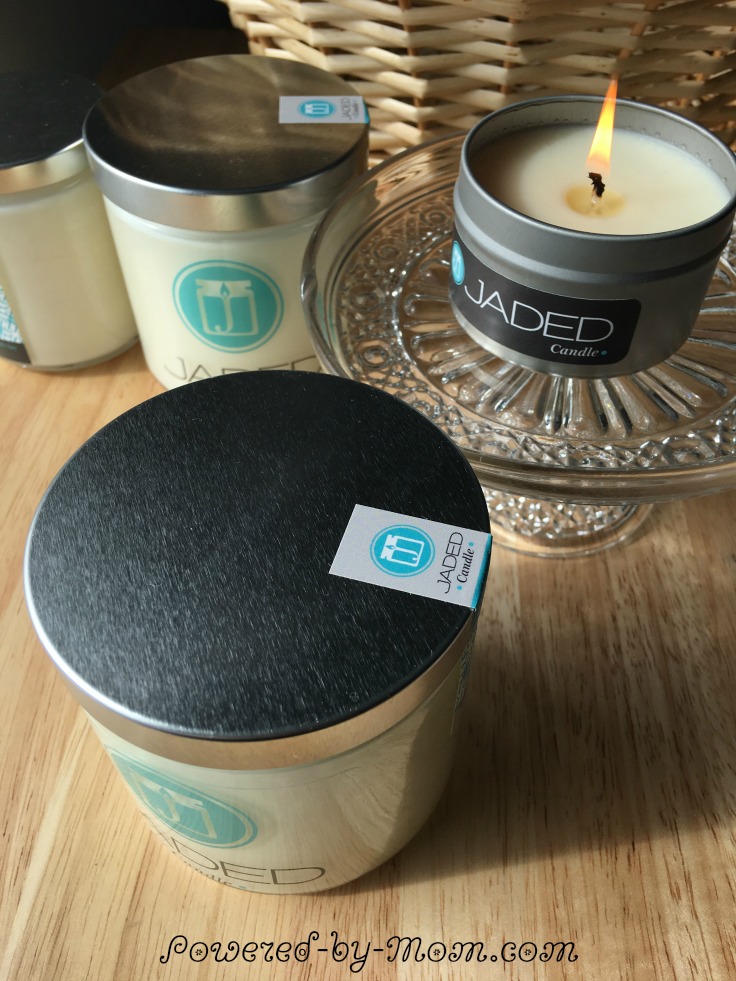 I fell in love with Jaded Candle at first glance. From the wrapping to the scent and the way the candle glows, these candles are perfect. Not only do you get a quality product, you are supporting a small business. That's a win-win in my book.
Every Jaded Candle I have tried has burned very well. They light easily and burn slowly. The scent of each candle was amazing. So far I have tried Citron Mandarin, Gardenia, Sweet Pea, and Island Hibiscus. All wonderful.
Don't forget to check out our Delicious Crepe Recipe!