Powered by Mom brings you a Luxe Designs Silver Loved Forever Name Necklace Giveaway ends 1/4 US & Canada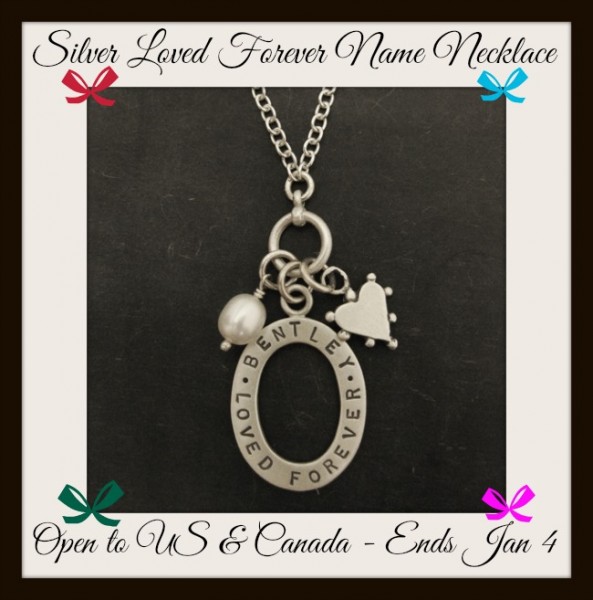 We always love jewelry from Luxe Designs as they think of everyone on your gift list including your pets! That's why Luxe Designs made it onto our 2014 Holiday Gift Guide! You can see the rest of our guide HERE.
You can have fingerprint jewelry done with your child's fingerprint, a noseprint ofy our dog or cat (if they'll cooperate), charm bracelets, graduation jewelry and so much more. It's always so nice to give and receive personalized gifts as the receiver knows you were thinking of just them when you had it created!I personally have a few different pieces of jewelry from Luxe Designs all done in sterling silver and I love each one of them. I just recently received my Silver Loved Forever Name Necklace which I had done as a memorial necklace in memory of my mother. I wish I could show you a picture but my daughter forgot it at a friend's house and we haven't gotten it back Yet. It's like the one above but with my mom's name on it and an amethyst for her birth month. However I'm happy to share one of my favourite pieces from Luxe Designs my Family Forever Necklace which is below. It has my name, my daughter's and my husband along with a beautiful crystal and an infinity symbol 🙂
This picture does not do it justice!
Different lights catch the crystal often times making it look like different colours. Above it looks more blue I assure you it's quite clear, other times it's pink, can you imagine the colours when I stand next to the Christmas tree when it's all lit up :). Check it out below on a red background it looks a bit different again. I just love this necklace and it goes with everything, I keep my family close to my heart!
A bit about the Personalized LOVED FOREVER Memorial Necklace
The lower portion of the Oval charm reads 'LOVED FOREVER', and you can personalize this memorial jewelry with the name of any loved one, up to 10 characters. It features a white freshwater pearl, and their Marquee Heart Charm. The three charms hang on their charm ring and the necklace features a spring ring closure. Personalizing this memorial necklace creates a special piece of jewellery the wearer will treasure forever.
Characters include letters A-Z, a heart (use the $ sign), &, ?, or any number 0-9.
Right now until January 31, 2015 you can also save 15% off any order at Luxe Designs using code POWER15, they ship to the US and within Canada. The fine craftsmanship at Luxe Designs can not be beat.
One lucky person will receive a Silver Love Forever Memorial Name Necklace where they can select the name and birthstone to accompany the necklace. You can choose a name of a loved one including your pets. Remember to it doesn't have to be a "memorial" necklace as it's just keep those you love close to your heart. Now go and enter good luck and HAPPY NEW YEAR!
Giveaway is open to US & Canada (excludes Quebec).