Powered by Mom Blog Shares a Guest Giveaway for a Minky Couture Blanket!
Sometimes we just need an amazing blanket! US Only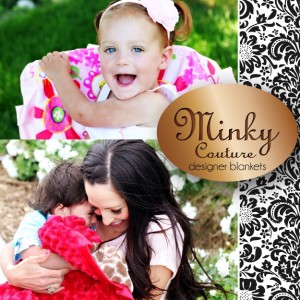 Minky Couture offers irresistible comfort from the softness of the blanket to the high-quality sewing. It makes for a luxury blanket. Every blanket is individually hand-made in the USA by a professional seamstress. The stitching is tight with no puckering. The blanket is outlined with a satin border adding durability and beauty to the incredible soft blanket.
Read Mommy's Memorandum's Minky Couture review.
Available from infant to a monster Minky which wraps comfortably around two adults! There are plenty of fabric print and color options–Minky Couture will even customize your blanket if you reach out to them and let them know what you want.
Pricing is reasonable from $45 and up.
Want your own luxurious Minky Couture blanket? Head on over to Minky Couture and enter blog35 for 35% off the entire order at check out!
This is the MOST incredible blanket!

  One fan is going to be pampered with they win a Minky Couture Infant-Size blanket*!
*Blanket will be Minky Couture's choice (winner's choice of gender or neutral print)