I started thinking about the sports teams I was a part of when I was growing up when I my daughter Sian and were talking about a few things. She saw me reading BYU Sports online as I was checking it out for an article I needed to write. She was surprised that I was reading anything on sports and I said why I like sports you've seen me watch hockey and other sports. Then she went on to say how she couldn't understand why some of her friends wanted to spend so much time play certain sports like soccer which is happening right now.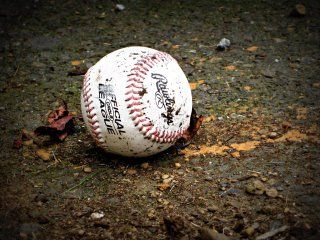 Sian is obviously not into sports, she's tried a few of them out but has not ever asked to go back to any of them after trying them for a season. Quite unlike myself when I was her age (10) and even as a teenager I always belonged to one athletic team or another. I've done soccer, track & field, volleyball, basketball (which I was not so good at), floor hockey and baseball. While track and soccer were the ones I excelled at the most baseball was a close second. However I have the fondest memories when it comes to reminiscing about baseball.  Why does baseball bring fond memories?
You'd think living in Canada it would be hockey right? I do love hockey but the wonderful memories come from the fact that it wasn't just about me playing baseball but that it was often a family event. Mom and dad would come to watch our games because hey both their kids were on the team (with one star LOL). It was always fun the commotion and the excitement of the game from the players and their parents and other family members who came to watch. Everyone knew everyone it seemed as we all lived in the neighborhood and the kids went to the same school. Doesn't seem to be like that today and no I did not walk 20 miles to school in the snow. Hot dogs and hamburgers were always being sold and we always got one after the game win or lose. Even playing on a light rainy day wasn't so bad what kid doesn't occasionally like to play in the mud? The parents got to gab with each other while watching their kids play and we all got some ballpark hot dogs or hamburgers after the game, sometimes even ice cream too. Amazing that what I remember the most is the family time and the food!
Looks like we won't be having any more sports family time with Sian although when she played baseball for the one season there were not hot dogs or hamburgers being sold at the ballpark, see different. She's only 10 and of course could change her mind. There are so many activities for them to choose from today which is wonderful and of course it doesn't have to be sports. It's all about the family fun, making memories and Sian can create her own glory days whether it be in dance, martial arts or maybe singing she does have a lovely voice. I'll continue to reminisce about my own glory days and look forward to the memories we're going to make.
So what's the point of this article? Have fun enjoy each other whether it be going to a game of some kind, walking in the park or whatever you can do as family, create your own glory days 🙂
What do you like to do together as a family? Leave a comment I love hearing from everyone!
Disclaimer
This is a sponsored post for Deseret News, however, all the points and views are my own and the stories shared actually happened:)