Let the Adventure Begin with MyCharge Adventure Jumper Cables
Can I use myself as an embarrassing example and you promise not to judge me? I'm going to begin by saying I'm mama to three: one teen, one preteen, and one diva. So I'm really surprised I've haven't done this many times. I may or may not shoo the kids out of the car when we get home. I do this to give myself 5 minutes of solitude. Five minutes. That's not too much to ask is it?!? Well on this particular day we got home after dark. I was looking at an article so I turned on the interior car light. I finished the article and went in. Came out the next morning (late night I add) to a dead battery. My teen and pretend got to push the car out of the garage so I could jump it off. Great start to any morning… if only I would've had the MyCharge Jumper Cables I wouldn't have had to call my sweet hubby for advice.
About MyCharge
The 6600mAh AdventureJumpStart is a battery ideal for jump-starting your own car, truck, boat or ATV. With a 400A peak jump start current and a 200A jump start current, the battery provides power to jump your car or other vehicle's battery. The AdventureJumpStart includes detachable jumper cables for use to jump-start your own car. The 6600mAh portable battery also charges phones, tablets, and other USB devices. Clip the included carabiner clip to your backpack, work belt or harness so that your power source is simply an arm's length away. Never lose power on the trail, mountain or job site again!
This little machine from MyCharge has totally won this mama's heart! It brings a great deal of peace of mind, because let's face it – that wasn't my first dead battery and it won't be my last. But this gem isn't just Jumper Cables – it's much more!
Key features
4x extra battery
Built-in USB port
Built-in micro-USB cable
Smart-sense: ensures complete device compatibility
Hyper-charge: ultra-fast charging of your devices; up to 65% faster than competitors
Power-stay: maintains battery power for up to 1 year
Max-power: maximum power transfer from powerbank to device
High-density battery: the smallest and lightest powerbank
Safe-cell: provides the highest level of battery safety
Rapid-recharge: powerbank recharges up to 50% faster than competitors
Pass-Through Charging: will charge the powerbank and connected device simultaneously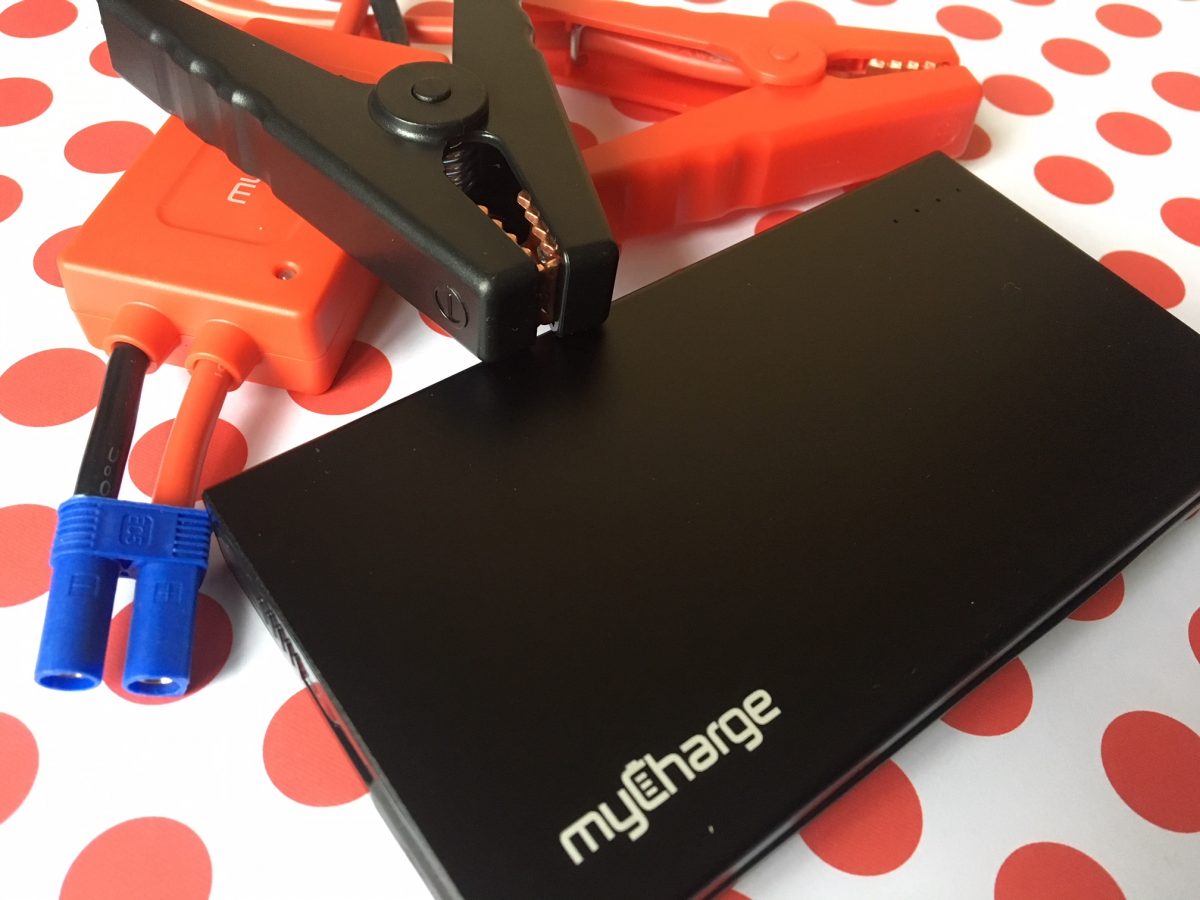 I love the fact that I can get such versatility from one small box. No need to carry bulky Jumper Cables and a phone charger and a flashlight anymore! I've got it all covered with this one versatile charger from MyCharge.
MyCharge has a huge variety of chargers! You can go here and check them out. These would make fantastic stuffers for your older kids for Easter!