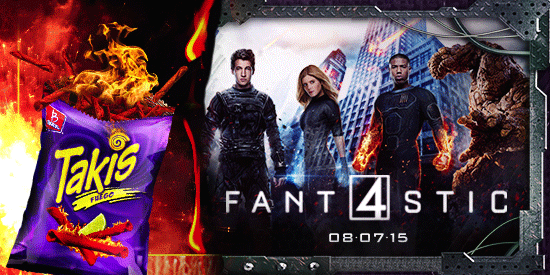 The Fantastic Four is back and better than ever! Marvel's original and longest-running super hero team is returning to the big screen with one of the most anticipated releases of the summer. The film centers around four young outsiders that teleport to an alternate universe, which drastically alters their physical form and gives them each shocking new abilities. The movie comes out on August 7, 2015 my wedding anniversary, coincidence okay yes but how fun!
Takis has teamed up with the Twentieth Century Fox to launch the Takis Fantastic Four Sweepstakes. The sweepstakes will give one lucky fan the chance to win a trip for 2 to attend the premiere in New York City!
Post Instagram photos about the film using #TakisSweepstakes to earn as many entries into the sweepstakes as you can! The more photos you post and friends you recruit to enter, the better chance you have to win this incredible once-in-a-lifetime experience.
Can you image walking amongst some of Hollywood's biggest stars to be one of the first to see one of the most anticipated movies of the summer?! GO HERE to enter and GOOD LUCK!