Powered by Mom Blog shares the newly released stars from MGA Entertainment Canada it's the Novi Stars!
Novi Stars were released just before Christmas 2012 and they've quickly risen to stardom among young girls everywhere!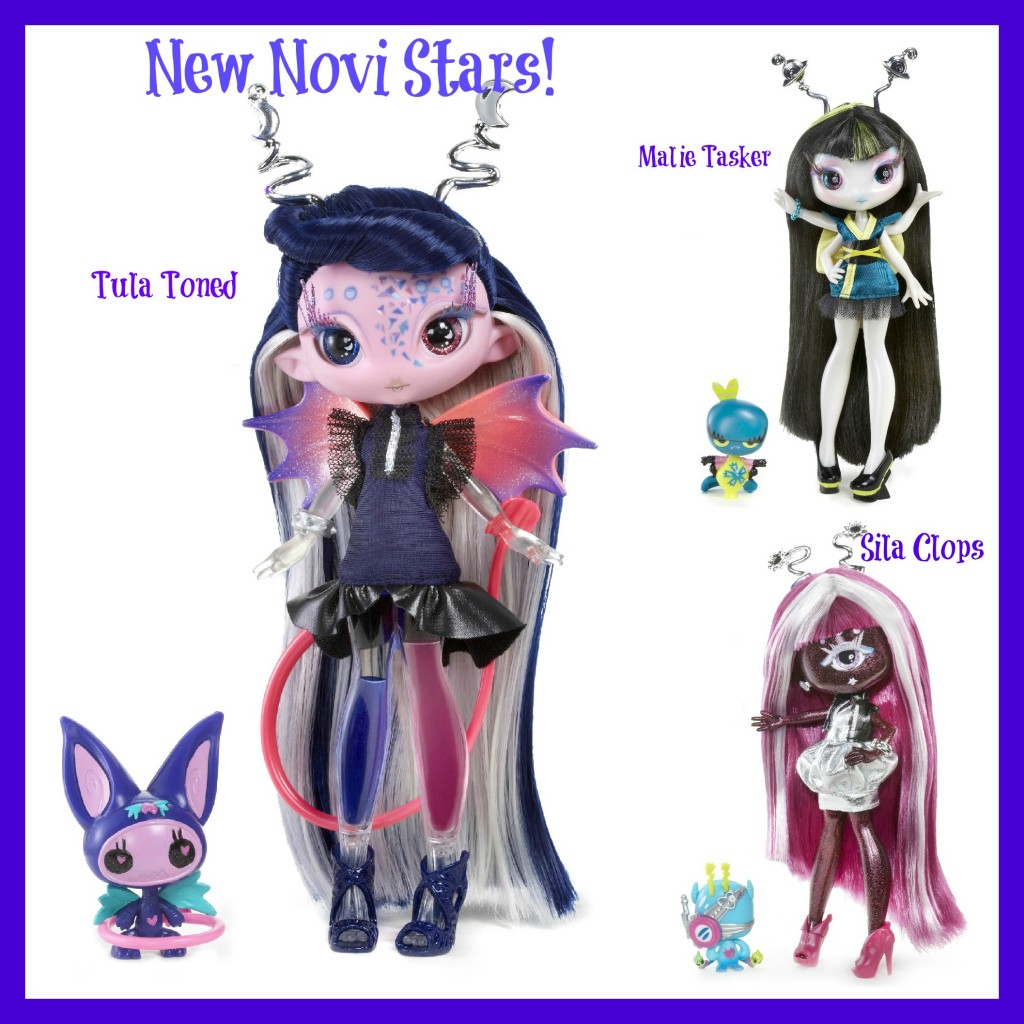 Novi Stars are the cool cosmic dolls that are a ton of fun, spacey and they each have their own unique talents along with their cute pets that come with them. My daughter received some Novi Stars for Christmas and she loves them. At 11 years of age my daughter has outgrown Barbies and other dolls but she loves the Novi Stars. For her the Novi Stars are cool enough for this tween and she enjoys setting them up on their glow in the dark stands on her bedroom dress so she can get the cosmic feel when she turns off the lights and goes to bed. I didn't even realize she was keeping up with the new releases of the Novi Stars as she specifically asked me for the Nov Star who has cosmic goo! That would be Tula Toned by the way who has the goo one leg has pink goo and the other one has purple goo, what fun! Her cute pet is named Vortex and each Novi Star has their own unique pet. 
If you're looking for something fun for tweens or even the younger girls who want something that's lots of fun, unique and more they will probably love Novi Stars I know my tween does!
Here's the low-down on the latest stars to join the Novi Stars girl crew!
Sila Clops
Her cosmic quirk is that she always looks on the bright side because she has one eye that lights up! Her mission on Earth is to light the way for her friends!
Malie Tasker
Malie is a very organized girl who can usually keep track of every single thing she knows of. This may mean she is smart, or just has a very good, detailed memory. She is also very "handy" and capable of fun talents like gymnastics. Malie wishes to take up juggling soon!
Tula Toned
Tula loves to fly around and soar throughout the sky and earth scenery. So much in fact that she often spends her time doing this and sight-seeing. However, she wishes to try to learn how to fly without tiring herself out. As it can sometimes be troublesome.
The Novi Stars are a hit in Powered by Mom's home and we think you'll enjoy them too or at least those little girls will 🙂