Polar Pillow & Pillowcase Guest Giveaway ends 8/31 US Only
I don't know about you but my head always gets way to hot on my pillow at night making my neck and scalp all sweaty, yuck. I love the idea of a cooling pillow to keep my neck and head cool and comfortable during the night, helping me get a great night's sleep! I definitely have to find out more about these pillows myself!
Read about Crayz Bees (our host) experience with the Polar Pillow and the Turbo-Cooling Pillowcase HERE
Polar Pillow is an award winning cooling pillow that helps you sleep better,so you can live better!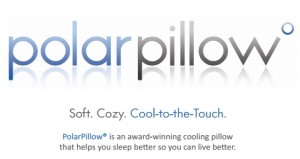 Joanie from Crayz Bees Reviews+ had the pleasure of reviewing this amazing pillow! They also sent her their NEW product to review as well.The Turbo-Cooling Pillowcase is an alternative to the Polar Pillow.
TWO lucky readers will win! One reader will WIN the Polar Pillow and another reader will WIN the Turbo-Cooling Pillowcase!

This giveaway is open to U.S. residents and will end on 8/31 at 11:59 p.m. EST.
Please enter on the Rafflecopter below.